The Ins And Outs of How We Do Business
Frequently asked questions
Can you give me an idea of your pricing for pressure washing?
---
For residential services, we can usually pull up your address on Google maps and see your home from the street view. This often allows us to give you a quote in minutes. We also offer discounts when you combine multiple services. Ask us about any discounts that may apply to you. Most driveway cleaning services (which includes sidewalks, entryways, and curbs) range from $100-$200, depending on size. The cleaning of a one story home, on average, starts at $200-$250 and the cleaning of a two story home, on average, starts at $300-$350. The cleaning of only one side of your home starts at $100. Other services such as pool decks and fencing or uniquely shaped homes and driveways, will require us to come take a look in person. But quotes are free and we would love to tell you in person what we think would benefit most from pressure washing. For commercial services, we will require a visit to the site. That way we can determine the logistics of getting the job done right - such as water sources, traffic mitigation, and any special equipment we may need.
---
How do you prevent damaging the surfaces you are cleaning?
---
One of the downsides of hiring an inexperienced pressure washing company is that they may damage your property. When cleaning a home, Pure Pressure uses a soft wash method on your most delicate surfaces. This method involves applying our special soaps to kill mold and loosen dirt. We then rinse the grime away only using the amount of pressure necessary to get your home clean. We can also reach up to three stories high while remaining on the ground. This means we won't be putting ladders up against your house unless we need to reach a tricky spot.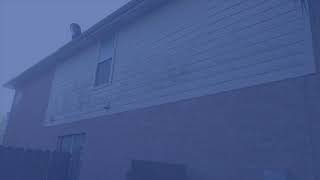 ---
Do you clean windows?
---
Yes and no. We are not window cleaners, but our soft wash method of cleaning homes does get the windows much cleaner, removing most dirt and mold. We apply our soap to help kill mold and loosen dirt, then rinse away the grime. A water softener in the soap helps to minimize water spots. We do not apply any physical agitation to the window with tools like brushes or squeegees.
---
Why should I hire Pure Pressure instead of a cheaper handyman or painter?
---
You will usually find that our pricing is very similar to anyone else out there. The difference between us and the competition is our use of commercial grade equipment operated by experienced employees. We use large 28 inch surface cleaners on flat surfaces. This tool provides an even pressure over a 360 degree area; this eliminates the streaking and striping patterns left behind by inexperienced pressure washers. When cleaning a building, we use many different tools, soaps, and methods depending on the type of material being cleaned. This results in a better looking and undamaged clean surface, that stays clean longer. All we do is pressure washing....365 days a year.
---
Are you insured?
---
Good question! You would be surprised how many pressure washers carry no insurance. We maintain a 2 million dollar general liability insurance policy. We have never had a claim against our insurance, but knowing it's there should give you some peace of mind.
---
---